It's that time of year again, and as the temperature continues to soar, people's desire for ice cream rises with the heat.  If you're running a busy convenience store, think about it: ice cream products are top sellers during the hot months – and good sellers all year long – and this treat comes with an attractive profit margin.
This is why you should look into Glidewell's Blue Bunny Ice Cream program.  We'll supply you with your choice of 60 to 70 individual popular ice cream items within eight categories.  If you don't already have a freezer, we have a couple that are ideal: an attention-grabbing model with the bright Blue Bunny logo, and another that is unmarked, on which you can put your own signage.
The freezers measure six feet long by three feet deep and three feet tall – plenty of space to stock enough product to keep your customers satisfied.  Our sales representatives will help you order the products you want, and our drivers will get your order to you on your next delivery date, because we stock it all at our Fort Smith warehouse.
Here are some of the tasty Blue Bunny products you can provide to your customers:
Ice cream sandwiches
Premium ice cream bars
King-size bars
Cones
FrozFruit Gourmet Frozen Fruit Bars
Ice cream cups
Premium pints
Blue Bunny Premium Chef Duff Pints
1.75-quart Blue Bunny original and premium choices
Flavors?  How about these?
Chips Galore!
BIG Mississippi Mud
Chocolate Raspberry
Chocolate Éclair
Cookies 'n Cream
Vanilla Crunch
Champ! Caramel Lovers
Chunky Mango
Big Alaska Bar
Those, plus a long list of others.  What we like so much about the Blue Bunny Ice Cream program is the huge variety we can supply to our customers.  Over time, you'll be able to track your sales, determine the hottest sellers and keep stocked up on the items that bring you the biggest profit.
After launching it in January 2012, the ice cream program continues to grow in popularity among our Arkansas and Oklahoma customers.  If you aren't offering single-serve ice cream in your store – or if you are but believe more variety, easier ordering and faster delivery would benefit you, talk to your Glidewell sales representative about stepping up to better deals and better profits through our Blue Bunny Ice Cream program.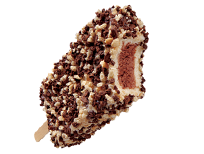 The Glidewell Team