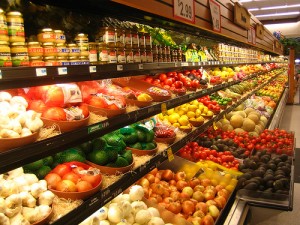 Large national supermarkets have watched the sales of natural and organic foods double over the past several years.  A report in the Indianapolis Star, posted on NACSonline.com July 10 shows a definite trend among American consumers toward healthier food.
Sales of natural and organic food rose 8% in 2010, after approximate 5% increases per year between 2005 and 2009.  Compare this to the fact that sales of all types of food in the United States didn't even realize a 1% growth in 2010.
And even better for consumers is that the growth is keeping prices low.  Meg Major, editor-in-chief of Progressive Grocer, is quoted in the Star as saying, "Make no mistake, there is a definite price differential. But as that once small segment is growing bigger and bigger, it's not only raised awareness but affordability."

Grocery giant Kroger has doubled its natural foods division over the past four years and has put Nature's Markets, which sells only natural foods, in 1,300 of its 2,500 stores.  If the largest food retailers are jumping on the trend, convenience stores should also.
There was a time when health food stores had the lion's share of natural and organic foods.  Not anymore.  The Organic Trade Association reports that in 2010, 54% of organic foods were sold by conventional retailers.  This probably refers to traditional grocery outlets, but there's no reason to believe that people buying organic granola bars and fruit drinks from the Krogers of the world won't do the same at their local convenience store.
Ask your Glidewell sales rep about healthy food items we can supply you with.  With our recent membership in Associated Wholesale Grocers as well as our other suppliers, we have access to many popular organic foods few other regional distributors do.  Bring a few of the fastest-moving lines into your store and prove to yourself that people who eat healthy will eat healthy just about anywhere.