When we began our Coffee Program, we never expected to be creating "Starbucks-alternatives" in our customers' convenience stores.  But we learned something very important: quality coffee, always fresh and hot and at a reasonable price is always a big seller, just about anywhere you go.
You don't have to have a round green sign with a siren on it to rake in money from consumer coffee sales.  In fact, the National Association of Convenience Stores reports that people stop at convenience stores more often to buy a cup of coffee than to fill up their gas tanks.
And how much more will people buy coffee if a store has an attractive, colorful self-serve bar?  The days of a couple of metal urns, a stack of Styrofoam cups and a bundle of stirrers in one of those cups is over.  To compete in the retail coffee market, you have to look the part.
Glidewell's Coffee Program includes a fully equipped bar with a variety of products from Miss Ellie's Gourmet Coffee.  Along with coffee, there's delicious Southern-brewed iced tea, cappuccino and more.
If you want more proof of the size of the U.S. coffee market, consider these stats from E-Importz.com: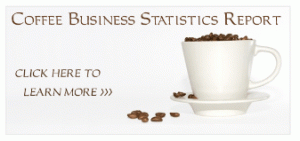 Specialty coffee sales are increasing by 20% per year and account for nearly 8% of the $18 billion U.S. coffee market.
Coffee statistics show that among coffee drinkers the average consumption in the United States is 3.1 cups of coffee per day.
50% of the population, equivalent to 150 million Americans, drink espresso, cappuccino, latte, or iced/cold coffees.
Independent coffee shops bring in $12 billion in annual sales.
At the present time there are approximately 24,000 coffee shops across the country, and statistics show there will be approximately 50,000-plus by the year 2012.
There's no reason convenience stores can't reign in a fair share of the coffee market.  In addition to being able to offer lower per-cup prices, c-stores offer something the busy gourmet cafes cant: convenience.
With a clean, attractive coffee bar in your store and help from your Glidewell sales rep in running it efficiently, you may become the coffee location of choice for large numbers of people who are tired of lines and overcrowding at the big chain coffee houses.
The Glidewell Team