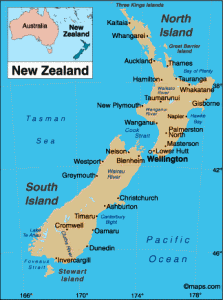 Rising taxes on cigarettes in New Zealand and a new law that says stores can no longer make cigarette packages visible to customers has got tobacco giant Philip Morris working hard to fight back.
Further, as of Monday, July 23, when the law took effect, New Zealand retailers who sell tobacco to minors immediately can be fined $1,000.  The law increased the maximum penalty for this offense from $2,000 to $10,000.
As reported on the National Association of Convenience Stores website, New Zealand Associate Health Minister Tariana Turia said the ban on displaying cigarettes was enacted in order to prevent young people from smoking.
"Retail displays, innocently positioned alongside everyday confectionary and sweets, are a key component of making cigarettes attractive to recruit young smokers. We're not going to tolerate this any longer," Turia said.
The week before the ban became law, Philip Morris began fighting New Zealand's tobacco regulations, part of which included creating a website where the public can speak out against the new law.  The NACS article linked above, which was written by the New Zealand Herald, also says that a legal challenge to the law is moving through the court system.
Philip Morris, which is the third-largest tobacco seller in New Zealand, is understandably upset.  And these recent incidents weren't the start of government opposition to Big Tobacco.  The New Zealand Herald, on it's own website, reports that back in April, tobacco companies were fighting a Cabinet decision to impose plain packaging.  Several tobacco companies said a move like that would create a "black market in tobacco."
It's clear New Zealand is aggressive against tobacco companies at a level the United States hasn't seen.  Yet.  As we've said here before, Glidewell Distributing is 100 percent behind our laws of not selling tobacco to minors.  But we're also 100 percent behind the right of tobacco producers, wholesalers, distributors and retailers to engage in this business.
When the tobacco companies above referred to a possible black market in tobacco, they, of course, meant a black market run by adults but shopped in only by those under 18.  That would not be a good scene, but it's a very likely possibility, because, as unfortunate as it is, if minors want to smoke, they're going to find a way to smoke.
But the New Zealand government is banking on the idea that hiding tobacco from minors inside retail establishments will be one of those "out of sight, out of mind" scenarios.  This remains to be seen.  If it works, we're behind it.
Our main concern is that free enterprise remains free.  In America, we've seen rising taxes on not only tobacco but also on alcohol.  Both of these products are constantly under fire in the courts and media, and we choose to stay out of any moral discussions regarding either of them.  What we care about are our clients businesses, which, if New Zealand-like laws ever came to this country, might realize a heavy blow to their bottom lines.
The Glidewell Team