After tests in Seattle convenience stores last year, leading online retailer Amazon seems confident that it's Amazon Locker system – essentially mailboxes away from home – is going to fly.  The secure mailboxes were installed in Seattle convenience stores, drugstores and other venues that are open around the clock and well-lit (safe).  The angle was to see if customers who don't have secure mailboxes or doorsteps at their homes would use the system.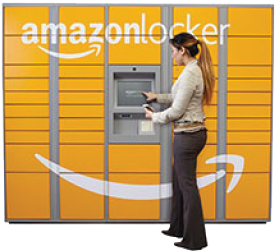 They did.  A few months after the Seattle opening, lockers were set up in New York and London and more recently in Arlington, Va.  The boxes aren't gigantic, but big enough to hold medium or small sized items.  You can see a photo of them and an accompanying article on DailyFinance.com.  Products available to be shipped to the secure mailboxes include only those shipped from Amazon's warehouses.
Amazon believes there's a demand for this service, which means more and more locker venues could be springing up all around us over the next few years.  What does this mean for the convenience store owner: More traffic.  And more traffic equals more profit.
The convenience store business is all about easy, handy impulse buying.  This is why Glidewell Distributing merchandisers work hard to help our customers set up their racks and shelves in ways that have been statistically proven to move more product.  But that product wouldn't move at all if nobody came into the store.  Now with the Amazon Locker system, stores stands a chance to have a LOT more people come into them.
It will be interesting to see studies of locker stores that show whether or not business increases.  Personally, we believe it will have to increase with more foot traffic.  We believe it will be similar to how it is with gasoline sales: a customer drops by to fill the tank, with no thought of buying anything else, and before he leaves, he's spent an addition $10.
The DailyFinance article doesn't indicate how quickly Amazon plans to move with this project, nor does it talk about compensation for convenience store owners who allow the boxes to be set up in their stores.  If we can find information on these topics, we'll post it here.  We'll let you know if this is something you might want to start considering for down the line.
The Glidewell Team